DBTS Form Processor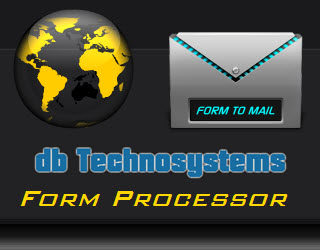 A Multipurpose Form Processor. Features HTML emails, Autoresponder, File Uploads, File and DB storage, Departments, Attachments, Conditional submission, Banned IP addresses, Captcha, reCaptcha, Reverse Captcha,Custom Processing and Includes, Multiple Mail Engines, and more...
It creates text or HTML emails for the administrator and the Autoresponder email.
You can easily customize the colors of your HTML emails. You can also attach one or more files in the autoresponder mail.
You can upload multiple files and / or store them on your server.
You can create and process Multipage forms with just a few mouseclicks as the processor has built in support for such forms.
Can send through mail(), SMTP, Sendmail, QMail. The ideal solution for those users that have limitations by their hosting companies, as it can use external SMTP servers (use your GMail account to submit your forms!).
The automation of Database storage makes it also ideal for this purpose.
The storage in CSV file allows you to create ready-to-use CSV files that you can download and further process in Excel.
Unique "plugin" architecture that allows you to add your own custom code, in strategic points of the script, thus allowing custom processing.
You can ban IP addresses you receive spam from.
You can set different email addresses to receive the mail depending on user selection (departments)

Built with Extension Builder 2.6.1.
Requires WB7.

Download
| | |
| --- | --- |
| Created by: | DBTechnosystems.com |
| Added: | 02.01.2011 |
| Last update: | 15.01.2012 |
| Version: | 2.7.5.7 |
| Category: | Forms |
| Designed for: | WYSIWYG Web Builder 7 (and up) |
| Downloads: | 36530 |
| 64bit support: | Yes |