Are You A Human? (DEPRECATED)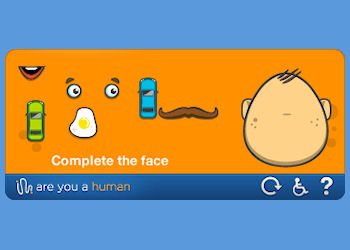 "Are You A Human" is an interesting alternative for standard CAPTCHA systems (http://areyouahuman.com). Instead of using text-based CAPTCHA which can be unpleasant for users, it uses dynamic games (PlayThru) which are harder to crack but easy for humans to solve. With this extension you can add "Are You A Human" to your forms with just a few mouse clicks.

IMPORTANT: As of March 1st, 2016 the PlayThru service is no longer available. So this extension is no longer useful!

Download
| | |
| --- | --- |
| Created by: | Pablo Software Solutions |
| Added: | July 6, 2012 |
| Last update: | February 9, 2016 |
| Version: | 1.0.1.0 |
| Category: | Forms |
| Designed for: | WYSIWYG Web Builder 8 (and up) |
| Downloads: | 11197 |
| 64bit support: | No |