Silverlight Slide.Show (DEPRECATED)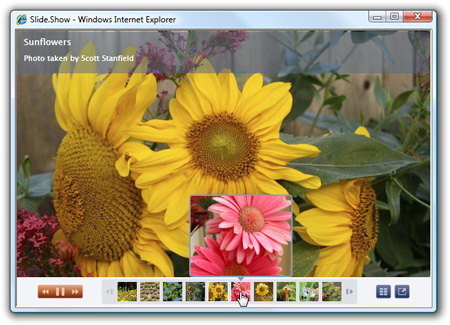 This extension is a wrapper for the Silverlight Slide.Show control by Vertigo Software. http://www.vertigo.com/SlideShow.aspx

What is Silverlight?
Microsoft Silverlight is a browser plugin that allows web applications to be developed with features like animation, vector graphics, and audio-video playback - features that characterize a rich internet application. Silverlight competes with products such as Adobe Flash, Adobe Flex, Adobe Shockwave, Java FX, and Apple QuickTime. More details: http://www.microsoft.com/silverlight

What is Slide.Show?
Slide.Show is an open source Silverlight 1.0 control for publishing photo slideshows on the Web developed by Vertigo Software.

This extension for WYSIWYG Web Builder automatically generates all the necessary HTML code and data files for you!

Download
| | |
| --- | --- |
| Created by: | Pablo Software Solutions |
| Added: | 23.03.2008 |
| Last update: | 02.02.2011 |
| Version: | 1.0.5.0 |
| Category: | Galleries |
| Designed for: | WYSIWYG Web Builder 7 (and up) |
| Downloads: | 19313 |
| 64bit support: | No |