News Writer Pro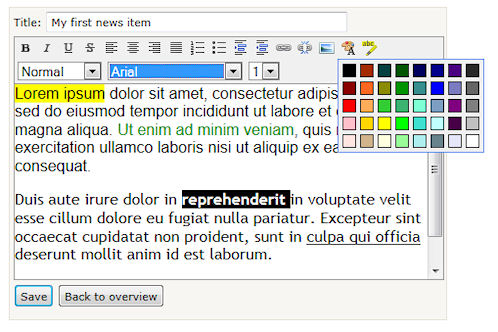 This is a 'Pro' version of the New Writer Extension (separately available) with several extra features!It allows you to manage a specific area of your webpage online. You can also use it as simple blog or as (online editable) data source for WYSIWYG Web Builder's News Feed Ticker.

Features:
- Manage news and other (HTML) content online and upload images.
- Password protected, only the administrator can add/edit/remove items.

Pro features:
- Items will be stored in a MYSQL server.
- Supports localization.
- Supports several popular editors: TinyMCE, CKEdit and others.
- Built-in support for RSS feed
- SEO friendly (content will be embedded in the page).

Download
| | |
| --- | --- |
| Created by: | Pablo Software Solutions |
| Added: | 19.01.2012 |
| Last update: | 14.03.2017 |
| Version: | 1.2.1.0 |
| Category: | Content Management |
| Designed for: | WYSIWYG Web Builder 10 (and up) |
| Downloads: | 24262 |
| 64bit support: | Yes |